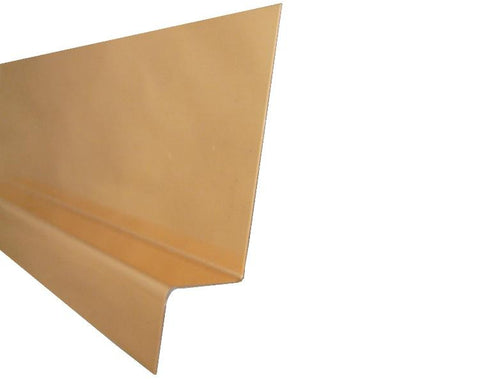 Copper Z Flashing (Pack of 10)
CAUTION: Flashing have sharp corners. Handle with care especially when unpacking.
Copper Z Flashing 1/2" x 5/8" x 1 7/8" x 94"

Make your house stand out with our Copper Z Flashing. Z Flashings are used between runs of siding and sheer wall to prevent water intrusion which can cause water damage as well as instigate mold growth. These copper flashings will patina over time giving your house a classic look. Our flashings are fabricated from 16 ounce solid copper and are sold in 94" lengths. Their dimensions are 1/2" x 5/8" x 1 7/8"". The best way to handle our Copper Z Flashing during installation is by wearing clean gloves. We handle all of our products like our, Copper Z Flashing, with exam gloves that way the copper will naturally patina evenly overtime. We take pride in the products that we develop. If you have any suggestions for a better product or purchasing experience please let us know. Your feedback is greatly appreciated and we thank you for taking the time to visit our copper z flashing product page. If you liked our Copper Z Flashing, take a look at all our Z Flashing options.
---
We Also Recommend
---